"Intricately crafted Ever Oil is our version of a daily moisturiser. We directly boost the skin's lipid layer with targeted botanical oils and extracts to enhance skin repair and regeneration."
Dan & Lion founders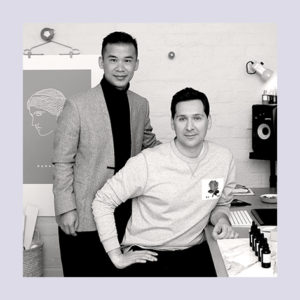 We're passionate about crafting this unique facial oil, perfect as a one-stop skin nourisher to follow cleansing, and able to enhance the skin's natural functions of repair and regeneration. Our purpose is to do away with the need for multiple products and to simplify our routines, resulting in way more, with way less. Formulated with revered and region-specific botanical ingredients, we bring together floral infusions and cold pressed oils in optimal ratios to deliver a full spectrum of phytonutrients, vitamins, minerals, anti-oxidants, essential fatty acids and other pristine plant compounds to the skin.
I absolutely love Ever Oil, I've purchased it twice now and it seems to soothe and protect my skin better than anything else I've tried - it's definitely a staple for me! Thanks for such a beautiful product
Dan & Lion is now literally the ONLY thing I won't leave going anywhere without. I use it every evening without a doubt. I'm doing some skin "rejuvenation" but I still carry my Dan & Lion with me no matter what. I am absolutely in love. The BEST serum I've ever encountered.
It's heaven! Smells divine, sits beautifully under make-up and makes me look like a movie star! Thank you! I'll need to buy some more!!!!
Lovely oil, which feels like velvet on the skin. Nourishing and enriching without leaving a thick residue. Can't wait for more products!
What an oil! I've been using my Ever Oil at night time and my skin has never looked better. It is a truly beautiful product which is easily absorbed and nourishes my skin without ever feeling slick or greasy. Can't wait to layer it with my moisturiser once the weather gets cooler. The heavenly scent doesn't hurt either!
It is rare to find a product where you can sense the love and care that has gone into its development. From its beautiful, natural aroma, to its easy absorption, my skin has never looked or felt better. Furthermore it has helped me with inflammation relief. Ever Oil is truly an incredible product and something I will continue to use long term. I would recommend this to anyone.
I have been using Ever Oil for about 3 months now and the results have been amazing! My skin has become more even toned and my pores have tightened. I live in the tropics and my skin just drinks this beautiful liquid in. People tell me I look 10 years younger! I love it 🙂
Along comes a product that makes you go WOW! I have been using Ever Oil as my night moisturiser. After 4 weeks I have noticed my skin is smoother, clearer and I actually look refreshed. I've had many comments about my 'glowing' skin.
Have you tried Ever Oil? We'd love to hear from you! Click to leave your testimonial.
Have you tried Ever Oil?
We'd love to hear from you!
Click to leave your testimonial.
Each month we bottle our precious face oil in small batches, following a six-week process of crafting and blending, to ensure freshness and vitality. Our natural skincare ingredients are 100% plant-derived, carefully selected and purposefully combined to tell a unique botanical story of beauty-care and well-being. We are committed to using organic ingredients where possible and available. Exacting storage standards, distillation methods and drying techniques also ensure that our products are of the highest quality.
This error message is only visible to WordPress admins
Error: API requests are being delayed. New posts will not be retrieved for at least 5 minutes.